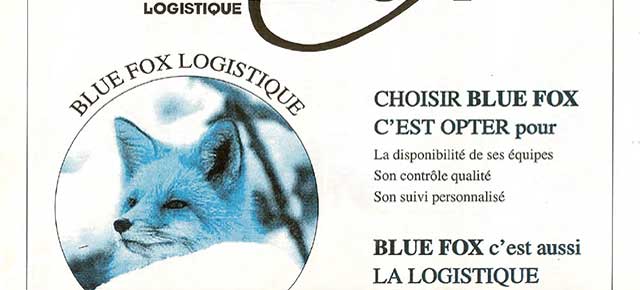 Thursday, August 19, 2021 - 23:43
A little history...
Do you remember that little FOX?
His arrival in the world of transport and logistics dates back to 1997, when Thierry REVY, practicing since 1986, decided to leave the " large groups " where he managed teams of charterers, in favor of his passion, that to make himself available at all times, and to " serve " with quality and without " limitation of resources " its ability to find solutions to their requests and its respect for honoring its commitments.
This well-deserved trust has spread,confirmed by the creation of BLUE FOX LOGISTIQUE, supported by his " peers " and his teams that he has in turn hired and trained " on the job " by giving the most disadvantaged a chance...
Knowing how to surround oneself with the " best " is also one of its qualities, and Claude REVY, now deceased, father of Thierry REVY, joined him in 2000 in order to benefit this growing and deserving company from its recognized commercial qualities the profession and take the direction of trade and marketing which he carried out until the end of his life.
BLUE FOX LOGISTIQUE has become an " incubator " of talents which have been confirmed in a motivating and professional atmosphere as we can see in this video of the time, a commercial event organized for a certain number of clients and in which employees participated with enthusiasm and sportiness.
Today, 20 years later, this Renard revived in 2015 has just gone through a very special year which affected all economic sectors but which very quickly adapted in order to by present to all and exceed the results of last year in terms of turnover.
The test is therefore " concretized ", this " FOX " deserves its place in the world of " transport ", honorably, and can only be indebted to its many shipper customers and partner carriers without whom it could not be accomplished and achieved, develop on a daily basis.
Through this editorial, the creator of FOX TEN LOGISTIQUE wanted to pay tribute to his past teams and confirms his past teams and those of today, and confirms his commitment to always " pull from the top " his employees, these women and men who represent, united and loyal to their leader, the " wealth of the company ".
The wishes of Thierry REVY : May 2021 and the years to come bring to all the newfound serenity and the joy of living without any restraint on a daily basis, surrounded by his loved ones.